Edmonton 780 2714482
Red Deer 403 5504482
Calgary 403 7975595
We service many areas of Alberta and DO NOT CHARGE EXTRA FOR MILEAGE.
Here is an alphabetical list of many areas in Alberta that we service,
Alberta Beach, Alcomdale, Alder Flats, Alix, Alliance, Ardrossan, Athabasca, Barrhead, Bashaw, Bawlf, Beaumont, Benalto, Big Valley, Blackfalds, Bon Accord, Bowden, Breton, Bruderheim, Calahoo, Calgary, Calmar, Camrose, Carbondale, Cardiff, Caroline, Carstairs, Carvel, Cherhill, Clive, Collingwood Cove, Cooking Lake, Cynthia, Dapp, Darwell, Daysland, Delburne, Devon, Dickson, Dickson Dam, Didsbury, Donalda, Drayton Valley, Eckville, Edmonton, Edson, Egremont, Entwistle, Erskine, Evansburg, Exshaw, Fallis, Ferintosh, Flagstaff, Falun, Flatbush, Forestburg, Fort Saskatchewan, Gadsby, Gainford, Genesee, Gibbons, Glenevis, Gunn, Gull Lake, Half Moon Lake, Hardisty, Hastings Lake, Hay Lakes, Heisler, Hilliard, Hinton, Hoadley, Holden, Innisfail, James River Bridge, Jarvis Bay, Jasper, Joffre, Josephburg, Kapasiwin, Keephills, Lacombe, Lac Ste. Anne, Lake Isle, Lamont, Leduc, Legal, Lindbrook, Lindale, Lodgepole, Lousana, Ma-Me-O-Beach, Meeting Creek, Millet, Mirror, Mission Beach, Morningside, Morinville, Mulhurst, Mulhurst Bay, Mundare, Namao, New Norway, New Sarepta, Nisku, Nordegg, Niton Juction, Nojack, North Cooking Lake, Olds, Onoway, Opal, Penhold, Pickardville, Pine Lake, Pipestone, Ponoka, Poplar Bay, Priddis, Radway, Red Deer, Redwater, Rich Valley, Rimbey, Riviere Qui Barre, Robb, Rochon Sands, Rocky Mountain House, Rocky Rapids, Rolly View, Rosalind, Ross Haven, Ryley, Sandy Beach, Sangudo, Seba Beach, Sedgewick, Sherwood Park, Silver Sands, South Cooking Lake, Spruce Grove, Spruce View, St. Albert, Strathcona County, Stettler, Stony Plain, Strome, Sturgeon Heights, Sundance Beach, Sundre, Sunnybrook, Sunrise Beach, Sunset Beach, Sunset Point, Sylvan Lake, Tees, Telfordville, Three Hills, Thorhild, Thorsby, Tofield, Tomahawk, Torrington, Trochu, Twin Lakes, Usona, Val Quentin, Vega, Viking, Village of Pigeon Lake, Villeneuve, Vilna, Vimy, Wabamun, Warburg, Waskatenau, West Cove, Westlock, Westaskiwin, Whitecourt, White Sands, Wildwood, Willington, Winfield...and we're working on expanding more!
EXPERIENCE OUR SERVICE GUARANTEE
Edmonton. (780) 271-4482
Red Deer. (403) 550-4482
Calgary. (403) 797-5595
Powerbrush Furnace and Vent Cleaning:
( Ask for free before and after pictures!)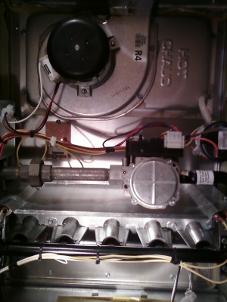 Vents: Our Powerbrush Cleaning System is one of the few that can actually brush out the entire vent system including the return air vents, cold air intake, main vents, and even the registers including the covers! High power vaccuum is attached to the brush and prevents dust from spreading throughout the building during the cleaning process.
Furnaces: First the blower fan is removed and cleaned. Then the motor, burners, heat exchangers, exhaust blower and chimney are blown out with compressed air. After a final wipe-down the furnace is re-assembled and tested. When possible the motor and fan are oiled and adjusted.
With high-effeciency furnaces, we also include cleaning the condensation drip lines and exhaust heat reclaimer coils.
Every furnace cleaning is complimented by a multi-point comprehensive inspection.
High-Efficiency Furnace & Air Conditioner Coils:
For heating and cooling systems that are cleaned on a regular basis (every 1-2 years), compressed air and light brushes will normally be used. However, when a system is very dirty, it is often necessary to use coil cleansing agents and steam to unplug and de-grease the coils.
What's Unique About Our Powerbrush Chimney Cleaning System?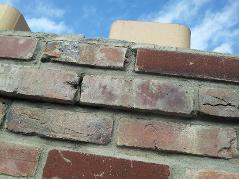 Conventional stiff metal or P.V.C brushes can loosen or even separate the joints and supports on a chimney, and do not properly clean angles steeper than 30 degrees. This can potentially cause a chimney fire.
Our powerbrush cleaning system uses a softer brush spinning at a very high speed to harmlessly clean the chimney very thoroughly all angles included. High-power vacuum attached to the brush removes creosote, ashes and other particles brushed loose from the chimney and fireplace without making a mess inside the home.
When there are conditions that complicate rooftop access, our cleaning equipment will allow for complete no-mess cleaning of the chimney from inside most homes. However, a thorough inspection isn't possible without access to the upper chimney.
WETT CERTIFIED INSPECTIONS:
While a typical inspection includes a visual inspection of the fireplace, chimney and hearth, a WETT Certified specialty inspection conducted by a certified inspector includes an inspection of all the elements of any wood burning technologies in the home to make sure that they are installed correctly and are installed with compliance to building codes and regulations. It should also include a visit to the roof to examine the chimney for any potential structural or ventilation issues. Canadian insurance companies requiring a wood burning appliance inspection will request a WETT Certified SITE inspector.
Our chimney, fireplace and wood stove repair services include, but are not limited to:
-Chase cap repair & replacement
-Masonry cap repair
-Clay flue liner replacement
-Masonry pointing and brick replacement
-Chimney, fireplace and wood stove installations
-Fresh combustion air supply installation
-Insert fireplace and chimney installations
Central Vacuum System Servicing and Line Purging
Wads are sent in reverse of normal flow to scrub the vacuum line clean, and remove any objects that are slowing airflow (Eg. hairpins, q-tips, paper clips,etc...)
The vac unit itself is reburbished by a qualified vacuum repair person. Normally refurbishing takes 2-3 business days. We handle pick-up and delivery of the unit. All brand new parts installed are warrantied for 1 year..
Eaves Trough & Down Spout Cleaning and Repairs

When cleaning eaves troughs (or gutters), we remove the large debris first by hand. Then we use either a garden hose, or pressure washer to rinse out the entire system including the down spouts. It is easier to repair leaks properly after damaged runs or seams are cleaned with a pressure washer first. A final site clean up is always included before any job is complete.
We also repair & re-slope leaking or broken gutters, install eaves-trough, down spout, and Alu-Rex Gutter Guard on residential and commercial buildings.
When a job is very difficult to access using only a ladder we can use lift equipment.
We offer this service from April to October weather permitting. Specialized safety equipment is often necessary depending on the slope of the roof, and/or height of the gutter itself.